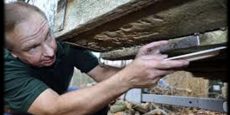 Check your dock and other equipment for zebra mussels before winter storage.
Zebra mussels have invaded Washburn County and are now established in Big and Middle McKenzie Lakes.  Professionals and volunteers have been monitoring other area lakes for zebra mussels throughout the summer.  For an update on this summer's monitoring and watercraft decontamination efforts, click here.
As summer is winding down and lakeshore owners are starting to take their boats, docks, swimming rafts, etc. out of the water, it is important for everyone to continue looking for aquatic invasive species.  Lake Service Providers have also been provided information on what they can do to help.  To see the letter sent to service providers, click here.
Individual property owners should also take the following steps when pulling equipment out of the water for winter storage:
Inspect and remove any plants, mud or other debris found on equipment.  Check dock posts, underwater support bars, wheels, boats, pon
---
---